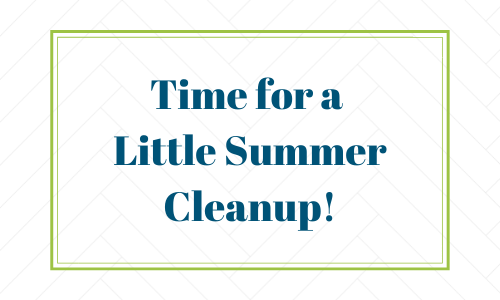 Happy July! As summer is in full pursuit, we are now faced with the ever daunting task of entertaining our kids and somehow managing to keep the house clean. If you're a parent, you know how stressful and time-consuming this can be. 
Luckily, however, in this month's blog, we're addressing just how you can manage to keep the house organized, save yourself some time, and have a little fun while doing it!
And let me start by saying, when it comes to organization and your kids, clear bins are your new best friend. Not only is it easy to store and easy to access (even for little hands), but it is easy to locate items too. Meaning, no strewn about supplies and materials around the house…THAT'S  a gift in itself. 
Here's Our Top 4 Ways to Keep Your Home In Order & Your Kids Happy: 
Arts & Activities 
As summertime activities, camps, and playdates begin it is time to gather all the needed art, craft, and school supplies together. Creating a space within your home (or garage) where you can single out the "supplies" from the rest of your professional or personal materials is vital to keeping the home organized. Label your box like "Kid-Friendly Supplies," and place any paints, stickers, notebooks, pens, pencils, crayons, etc that are available to your kids.
Not only does putting all the supplies in one place make it easier for you and your child, but it also teaches them a sense of responsibility to take care of their items and return them to their proper place. 
Summer Goodies
The rising temperatures mean…pool and beach time! Place all sunscreens, towels, goggles, and aquatic toys in one clear bin (labeled of course).
That way, not only is it easy to access, but your kids can grab the things they need for pool time or even for some front-yard hose action without having to ask you where they are, or which they can use. Dreams come true, right? By grouping items together, you're automatically ready for any pool party, birthday party, summer trip, and/or camp that comes your way. 
Pantry & Food 
Our kids get hungry ALL the time, and it makes sense, their kids! They are constantly growing and constantly burning calories by running around, swimming, playing, etc. 
If most kids had a choice, they would rummage around in their pantry looking for any possible unhealthy snack they can find. Cut to a few hours later when you go to grab something you need, and find everything in chaos. No, thank you.
What's the saying – too many hands in the pantry? 
Avoid the mess and provide your kids with healthier alternatives by clearing a space for them within the pantry. By doing so, you have a better oversight over what they are consuming throughout the day and get to spend less time being the "bad cop." They are supplied with a choice in snack, but one that is better for them, and it is easy to know when to restock. Plus no mess! Stock your pantry box with dried fruits, nuts, yogurt bites, healthier versions of fruit rollups, or any and all of your child's favorite snacks. 
Closets
Kids play and get dirty. What's the best way to prevent your kid's nice clothes from being thrown into the summer mess? Keep it organized. Providing delegated spaces for bathing suits, "play clothes," and nice outfits keeps your child's closet tidy and makes them feel like they have more choice over their daily outfits. 
Because let's be real, kids are notorious for grabbing the first thing they see. Anyone else? By providing bins, sections of the closet, or drawers for their "free grab" clothes, they can dress themselves how they want, get as dirty as they please, and you get a little peace of mind. 
However, before you begin on your organizational journey, it is important to get rid of allllll the items you no longer need. Start by creating four boxes – keep, donate, trash, and recycle. Go through items such as closets, pantries, garages, even school supplies and get rid of anything you no longer use. A good rule of thumb is – if it hasn't been used in the past year or two, it's time to go! 
This can be overwhelming to do alone, so invite your kids! Play some music, dance around, teach them the value of cleaning out your space. And as always, I love a dance party (and organization) so I am here to help! Whether it be clearing your space, helping you reorganize, or a mixture of both- I would love to take on this important time with you! Just give me a call today.