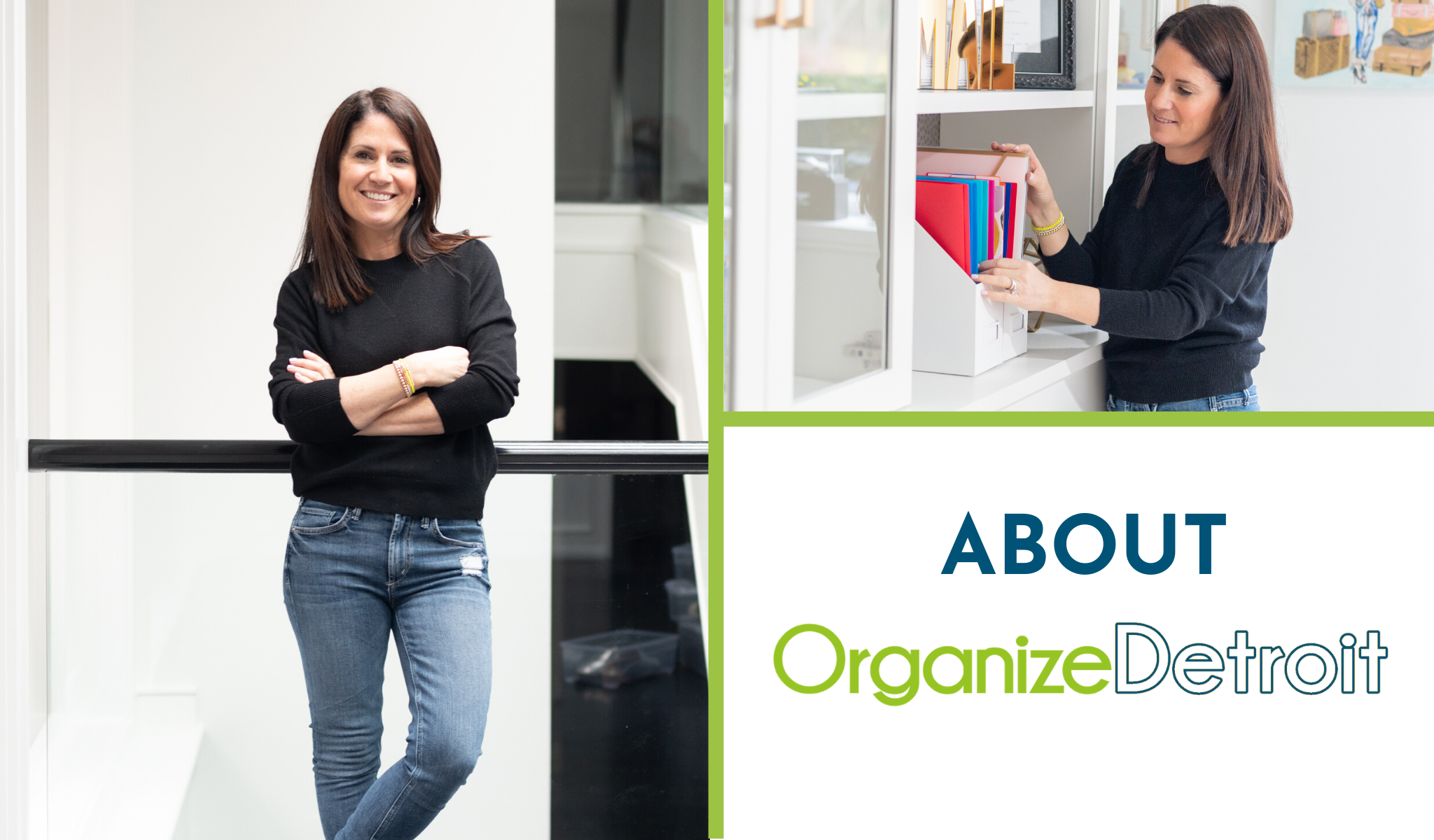 Since 2008, Andrea Wolf and the Organize Detroit team have been taking the emotion out of your most overwhelming home organization projects. Our concept is simple–we truly believe that having less clutter and an organized home helps your day-to-day life run smoothly. We know that it's not just about the bins or labels you use–it's really about freeing yourself of clutter so you can establish new habits to banish the mess for good!
We are truly honored to be a part of the homes of our clients. From the couples downsizing after their children have started their own families to busy households moving to their dream home, we know that creating a functional home is about more than just having a home that looks great. It's about having an organized home so you can enjoy more quality time with your family.
We take confidentiality seriously–you'll never have to worry about us dishing on your dirt! We're here to support during a stressful time. We know that your home is full of memories so we're here to lead the way to help you declutter, purge, and organize with compassion.
---
I called Andrea to help me clean out, organize, and eventually pack and move out of my house before doing major construction. Andrea and her team helped me with this major project in such an organized and timely fashion that I look forward to moving back because it will be so very easy! I will continue to call on them when I need re-organizing as my children grow into (and out of) clothes, toys, sports, and hobbies. They saved me a TON of time and stress! I would recommend them to anyone.
Celia
Grosse Point, MI
Andrea and her girls have helped me more than once with different projects. We have touched clothes closets, linen closets, unpacked and organized our new kitchen, my pantry, and laundry room area. With each area, she knows the right questions to ask me and helps me feel comfortable letting items go. her sense of organizing items and where they should go best is great and has great style in the organizing bins she has chosen. Andrea is all about function! She always wants me to feel good about our plan so I can maintain it. Thank you Andrea for your help!
Rhonda
West Bloomfield, MI
I first started working with Andrea and her girls and my old house. We organized every room in my house....AND THEN....we decided to move. Andrea and Leslie packed up my house and made my family and I feel so comfortable while we were living in chaos. Then not only did she help pack us up, we then unpacked. She helped us get situated and really get acclimated to our new home. It felt like home. Fast forward 3 years, we have finished a huge renovation project. Andrea and her team have completely set up my new kitchen in the most amazing way. It looks great and most importantly it works! She is a great listener, great suggestions and really has such a passion for her job. We are still tackling more areas now. I know as overwhelmed as life gets, I can always ask for help from Andrea and her girls. Life feels better when you are uncluttered. That feels really good.
Anne
Bloomfield Hills, MI
I'd highly recommend Andrea for organizing! I was so happily surprised by her amazing organization skills and ability to organize things in a way that is easy to maintain! Before, we'd try to organize our kitchen cupboards but they'd also end up back to the way they were. Andrea evaluated our kitchen and rearranged everything in more logical locations. Plus, she purchased great storage containers and bins to keep everything organized. It's already been a few weeks and everything is still organized and easy to find! I'd highly recommend her to anyone. In fact, we were just going to hire her for one room but were so happy with the results that she helped up with our entire house!
Jessica
Birmingham, MI
After over 40 years of living in the same house, my mom decided to move. We called Organize Detroit to help us. Andrea and her team were amazing and exactly what we needed. They came and helped us pack, organized what we could donate and helped us find buyers for some larger items. They were kind, patient and professional. We couldn't have done it without them!
Sheryl
Beverly Hills, MI
Andrea and her team have worked with us at two homes. They are impressive with their detail and making our moving experience so much better. Decluttering, donating, packing safely, setting up shelving, and more. We continue to use them for organizing and enjoy the times they are here. They are very trustworthy which gives a great peace of mind!
Erin and Adam
Franklin, MI
After living in my home for 43 years, the thought of moving seemed impossible. Andrea and her team were compassionate, efficient, and so detailed. They led the way and I was amazed at how they got it all done. I don't know who appreciated it more--me or my kids knowing they didn't have to do it. They also completely unpacked me and set me up to start my next chapter.
Sheila
Huntington Woods, MI