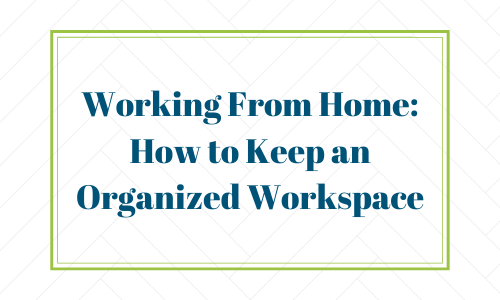 Now that we are settling into a back-to-school/work-from-home balance, we are a bit more able to see what works (and what doesn't) in our home. It can be stressful having to run a school and a business all from the comfort of your couch. However, it doesn't have to be!
Believe it or not, organizing could very well be the solution to many (if not most) of your problems. It is always important to have structure, especially for the little ones. In order to combat COVID-19 from the working home, it is essential to maintain a healthy learning or working environment for every member of the house.
That's why, this month, we are choosing to focus on organizing our workspace – whether it be professional or educational.
Kids Space
Right now, you're playing many roles in your child's life: parent, entertainer, and now, teacher. Going to school from home is HARD! Especially when you are battling challenges like lack of focus and creating a school within the home. Trust me, I get it! That's why instead of trying to make them learn on the couch or the dining table, bring the classroom to them! Revamp a space in your home that isn't getting a lot of attention and make it their desk. Have them be part of the decision process for where their learning area will be.  This is important for the younger kids. Once the area has been decided, the next step is clearing out the area.  Just like we do with any area , starting with a clear space is always best.  You don't need to clear a whole area, just an area for their work space and putting away their stuff at the end of the school day.
With a little revamp, comes organization and that's why we're here for you! I am a big fan of clear plastic bins, and think they are by far the easiest way to store items in groups. I often use magazine holders for my clients in their home offices and catch all areas.  Your child's learning space is now their home office.  A magazine holder stacks vertically, which is always more pleasing and easier to manage that a horizontal stack.  Weather it is a plastic bin or a magazine holder, finding your system is a great way to teach organizational skills. Depending on the age of your kids, don't over do the organization bins.  Too many can also be difficult and make it tough to maintain.  Start with less and add in as the kids determine what is needed for each class and their daily online learning.  Just as important as the area to do the studying is, is the area to clean up at the end of the day.  You and your kids should make an area that can used to put away the supplies at the end of the day.  You and your kids don't want to be staring at their classroom all day.
I am also a huge fan of envelope and mail organizers. By keeping these nearby or placed on your child's desk, you can keep a command center for your child's weekly progress. Have them turn in assignments or keep key paperwork like online school passwords located here. It will be easy to find, and easy to return. Don't forget to make this space fun! Decorate it like a mail center and teach your children how to send and receive mail – from home!
Creativity and organization will keep us sane through this upcoming school year. Be sure to go through these areas often to keep it clear and organized. But, it's also important to take care of yourself and your professional space as well, which is why we wanted to highlight key ways to keep your professional life chaos-free!
Work Space
Once you have the kids settled, it's time to focus on your work. At least, that's how I imagine morning routines to go, at least in my house. Maybe you have a desk already, or you are having to create a makeshift one. Whichever it may be, organization is a must!
Again, clear bins and magazine organizers are your best friend. I keep all my folders in my magazine organizers – on a bookshelf or sitting on my desk. Here, I place all important paperwork or client/project information. Clear bins are great organizers for past paperwork or excess supplies.
Another idea is, take cloth baskets and bins and place them on bookshelves or desk compartments. A lot of our desk clutter can be discarded, donated, or reused in a new way. I highly recommend going through all your things before organizing. Pull everything out, so you can really see what you have. Sometimes we need things at close proximity, but it is unflattering to the eye. That is why cloth bins are a necessity! You can get creative with designs, colors, or sizes. Luckily, you can find them, along with clear bins and mail organizers almost anywhere! Some of my favorite places being Target and Bed Bath & Beyond.
For more of a visual, I've included the products below: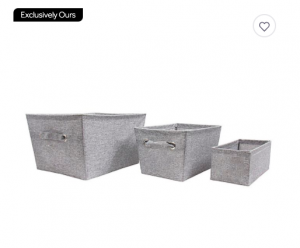 Bed Bath & Beyond Cloth Baskets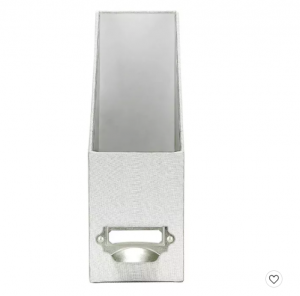 Target Magazine Holder/Organizer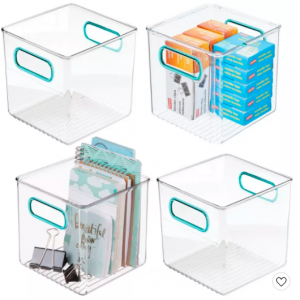 Target Clear Pantry/Organizing Bins
We're here for you! We love to hear feedback, suggestions, ideas, or services you may need. So give us a call today.